Egypt mourns Coptic church attack victims
Funerals have been held in Alexandria for victims of one of the two bomb attacks on Coptic churches in Egypt by so-called Islamic State (IS).
The ceremony at the Monastery of St Mina took place under heavy security.
At least 45 people died in the bombings in Alexandria and the Nile Delta city of Tanta on Sunday, prompting a three-month state of emergency.
Hours after the funerals, reports emerged of police killing seven IS militants planning more such attacks.
The interior ministry said the militants were killed after they opened fire on the security forces who approached them in the southern province of Assiut.
'Nothing is good'
President Abdul Fattah al-Sisi ordered troops to be deployed to protect "vital infrastructure" and warned of a "long and painful" war against jihadists, who have killed hundreds of people in the country in the past four years.
Hundreds attended the funeral of some of the 17 people who died when a bomber blew himself up after being stopped by police at the gates of St Mark's Cathedral, where Pope Tawadros II led a Palm Sunday service.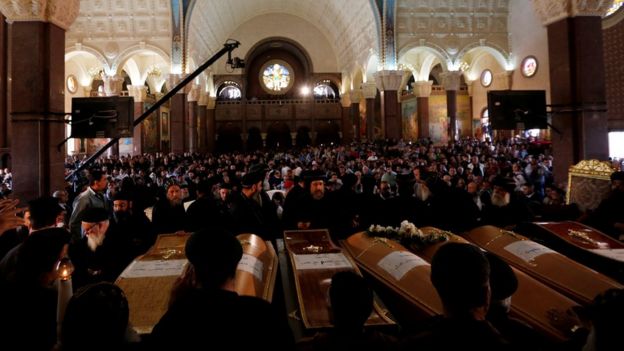 Priests in flowing, dark robes stood before a line of coffins marked with the word "martyr", and the building was filled with the prayers and chanting.
Many of the mourners expressed outrage at the state's failure to protect Copts from attacks by IS, which threatened in February to escalate its campaign against them.
"Where should we go pray? They are attacking us in our churches. They don't want us to pray but we will pray," Samira Adly, whose neighbours died in the attack, told Reuters news agency.
"Everyone is falling short… the government, the people… nothing is good."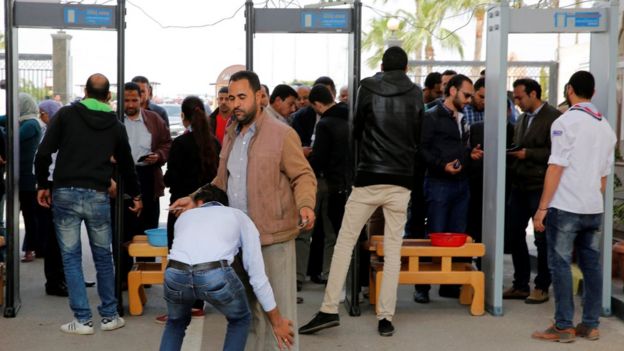 Youths who gathered outside the monastery during the funeral shouted "Down with any president as long as Egyptian blood is cheap" and "Down with military rule", according to Reuters.